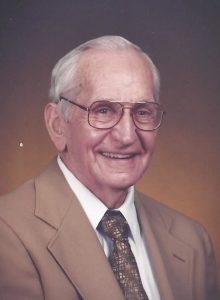 Kenneth Dale "Kenny" Kingsley, age 96, of Marion passed away Friday, January 12, 2018 at the Presidential Center of Marion.
Kenny was born November 12, 1921 in Marion, Ohio to the late Wilbur and Mary (Brady) Kingsley. Kenny worked at The Marion Power Shovel until retiring in 1982.
Kenny married Ellis Gertrude "Trudy" Smith who preceded him in death. Kenny and Trudy enjoyed spending time bowling.
Having a second chance at love, Kenny met Marian L. Thome at a bereavement meeting. Kenny and Marian were married on August 24, 1991; Marian survives.
Kenny and Marian enjoyed traveling the world together with favorite trips to Alaska and Europe. Kenny enjoyed watching sports on TV, loved yard work, and would walk anytime possible.
In addition to Marian, Kenny is survived by 6 stepchildren, and sister, Virginia Kingell.
Kenny was preceded in death by his parents, first wife, Trudy, siblings, Harold, Dick, Ernie, and Irma, and stepson, Greg Thome.
In lieu of flowers, memorial donations may be made in Kenny's honor to Heartland Hospice or St. Mary's Grade School.
A Mass of Christian burial will be celebrated 10:30 am Tuesday, January 16, 2018 at St. Mary Catholic Church, 251 North Main St., with Father Thomas Buffer officiating. Friends may call one hour prior to the service and burial will follow at Waldo Cemetery.
Snyder Funeral Homes of Marion are honored to serve Kenny's family. Online condolences and memories may be expressed by visiting www.SndyerFuneralHomes.com.
Similar Posts: