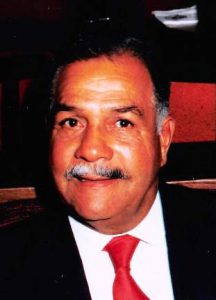 Ollis B. "Ollie" LaVette Jr., age 92, of Marion, went to be with the Lord on Friday, January 26, 2018, at Heartland of Marion surrounded by his loving family following complications from a recent fall.
On January 29, 1925, Ollie was born in Marion, Ohio, the son of the late Alice (Smith) and Ollis B. LaVette Sr.
Just before he would have graduated high school, Ollie enlisted to serve his country in the U.S. Navy in April of 1943. He served for three years, a veteran of World War II, spending the majority of his service protecting Ford Island/Pearl Harbor, Oahu, in Hawaii.
Upon his honorable discharge, Ollie returned home to Marion, Ohio, where he married the love of his life, Ruby Richardson, on September 8, 1947. Together they raised three children: Pierre, Michael and Debra; and shared over sixty-three wonderful years of marriage. She preceded him in death on April 17, 2011.
For most of his career, Ollie worked construction with the John Teeter Construction Company. His crew spent a significant amount of time working at three manufacturing companies in Marion; Quaker Oats, B.F. Goodrich, and the Whirlpool Corporation where he was well known and liked.
Ahead of his time, Ollie was a health enthusiast long before it became popular. He was a body builder, working out for nearly seventy years of his life, from his early twenties until recently. He was also quite the boxer, in his younger days.
A skilled mechanic, Ollie had a love for fast cars. He enjoyed working on the many hot rod cars he had throughout his life, spending many hours in the garage trying to get his cars to go a little bit faster. He also had an extensive coin collection.
Taking good care of everything he owned, Ollie always made sure his yard and garden looked immaculate. When he was younger, he also enjoyed hunting and fishing with his friends.
Ollie will be remembered as a wise man, who had a lot to share in life. He had a positive attitude and a "clever sense of humor."
Ollie will be missed by his entire family, and he was very proud of all of his children: the late Pierre LaVette, Michael (Barbara) LaVette, and Debra (Louis) Bentley, a daughter-in-law, Carolyn LaVette; five grandchildren: Pierre (Natalie) LaVette Jr., Vincent LaVette and Danielle Bentley all of Marion; Michael (Amy) LaVette Jr., Michelle Johnson, and seven great-grandchildren: Tatiana, Jayla and Jayden, Asia Johnson, all of Columbus; P.J., Andrew Vincent LaVette, and Zemira Bentley Prude; all of Marion and numerous nieces and nephews.
Including his wife and parents, Ollie was preceded in death by his son, Pierre LaVette; and sister, Louise Ellington.
His family will greet friends from 4-7 p.m. on Tuesday, January 30, 2018, at the Snyder Funeral Homes, DENZER Chapel, 360 E. Center St., Marion. Services honoring his life will also be held there at 11 a.m. on Wednesday, with Bishop Gregory Draper officiating. Burial with military honors provided by the Marion County United Veterans Council will follow in Marion Cemetery.
Memorial contributions may be made to Quinn Chapel A.M.E. Church or Mt. Zion Baptist Church, and they may be sent to the care of the funeral home.
Snyder Funeral Homes of Marion are honored to serve Ollie's family and your condolences may be expressed to them via www.SnyderFuneralHomes.com.