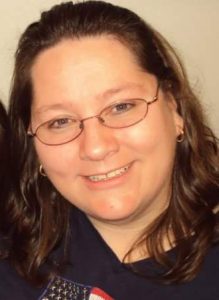 Ronda Rae Thrasher, age 45 of Marion, passed away while at home with her husband on Friday, January 5, 2018 in Marion. She was the daughter of the late Bob and Clara (Osborne) Streng.
Ronda was a member of the Grand Prairie Baptist Church. She loved going to the casino with her husband, and she loved going to Bingo with her mother. She was very proud of her wonderful children and grandchildren, and she never missed her children's sporting events, band concerts, or show choir concerts.
Friends and family remember Ronda for her willingness to give advice to anyone and everyone that was in need of it; even if her advice wasn't liked, you knew it was the truth and from the heart. She was always willing to lend a helping hand. Family was her number 1 priority.
She was a strong, loving woman who fought cancer for six long years. Her family is overwhelmed and pleased to know she has gained her heavenly body and is no longer in pain.
She is survived by her loving and devoted husband of 12 years, Bruce Thrasher; her 6 children John (Mandy), Cameron (Maggie), Taylor, Brennan, Abby, and Kylie Thrasher; her 6 grandchildren Bryce, Macayla, and Gunner Ogletree and J.J., Cayden, and RaeLynn Thrasher; her sister Robin (Rob) Hampton; her niece and nephew Bailey and Enoch; and her mother- and father-in-law Linda and Jerry Hall.
A celebration of life service will be held on Saturday, January 13, 2018 at 11 AM at the Grand Prairie Baptist Church, 4893 Marion-Upper Sandusky Rd, Marion, Ohio, with Pastor Bob Hendricks officiating. Family and friends are welcome to gather an hour prior, from 10 AM to 11 AM at the church.
In lieu of flowers, memorial contributions may be made to the family to cover the costs of funeral expenses. Condolences may be expressed online at www.boydbornfuneralhome.com.
Similar Posts: