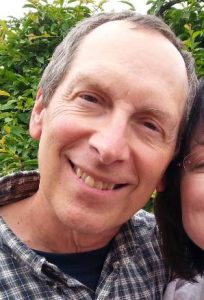 Keith W. Thomas, age 65, of Waldo, died unexpectedly Sunday, February 18, 2018, at Marion General Hospital from the flu with his loving family by his side.
On September 24, 1952, Keith was born in Marion, Ohio, the middle of three children of the late Harold "Tommy" and Evelyn "Cookie" (Mayfield) Thomas. He graduated from Marion Harding High School in the class of 1970.
After graduating, while working at the Pizza Chef, Keith loved to sit and chat with a frequent visitor, Jean Pratt. No matter who she was with, Keith acted as if Jean was the only one at the restaurant. Their love grew from there and they were married on November 3, 1978, and have cherished their thirty nine years together. Together they also lovingly raised two daughters: Audrey and Katherine.
For the majority of Keith's career, 34 years, he worked at GTE / Verizon in many capacities. He then worked for Ohio Heartland, helping to winterize and make homes livable again. For the last five years, he has been working a job he loved, working in the receiving department of Lowe's in Marion.
With a love for the outdoors, Keith absolutely loved going camping with his family. They enjoyed taking their camper to nearby campsites, where he made the best campfires to cook s'more's and tell his silly stories and jokes. They had a ball together, laughing all through the day and night and listening to music.
A great handy man, Keith was always the first call whenever his family needed something fixed. He also loved wood working, and was looking forward to spending more time in his shop. One of his proudest of achievements was saving his change for decades to save up to buy his play car, his little red Mazda Miata.
Having a huge heart for animals, Keith loved the companionship of his many dogs and cats over the years. He loved his daily walks with the dogs, Sophie and Gracie, down to the covered bridge in Waldo. He also loved playing with his cats: Pixie, Buddy, and Spooky.
Most important of all to Keith was his family. He was the best husband, dad, grandfather and brother they could have ever asked for. "He was the glue of the family," holding everyone together. He especially cherished his two granddaughters, who were the apples of Pepaw's eyes. They will forever miss his ornery and playful personality, because he simply made every moment one to remember.
Left to cherish his memory are his wife, Jean Thomas; two daughters: Audrey (Richard "Chad") Overmyer, and Katherine "Kat" (Dustin) Holbrook; two granddaughters: Taylor and Haylee Overmyer; two siblings: Gary Thomas and Susie Miller; and numerous nieces and nephews.
His family will greet friends from 4 – 7 p.m. on Thursday, February 22, 2018, at the Snyder Funeral Homes, DENZER Chapel, 360 E. Center St., Marion. Services honoring his life will also be held there at 1 p.m. on Friday, with Celebrant Mark Schuring officiating. Burial will follow in Marion Cemetery.
Memorial contributions may be made to the Marion Area Humane Society, 2264 Richland Rd., Marion, OH 43302, or to Buckeye Ridge Habitat for Humanity, 370 E. Mark St., Marion, OH 43302.
Snyder Funeral Homes of Marion are honored to serve Keith's family and your condolences may be shared with them via www.SnyderFuneralHomes.com.
Similar Posts: