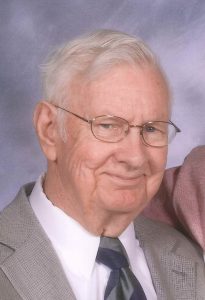 Donald Earl Zeisler, age 89 of Marion, passed away on Saturday, March 17, 2018 at Community Care and Rehabilitation. On March 12, 1929, he was born to the late John F. and Hazel G. (Barnhart) Zeisler in Marion, and on August 12, 1951, he married his wife Marie (Gantt) Zeisler at Epworth United Methodist Church in Marion.
Don enjoyed watching sports, especially the Ohio State Buckeyes, the Cincinnati Reds, the Cleveland Browns, and the Cincinnati Bengals, and he loved people, playing cards, and get-togethers with his family. He also coached the Wildcat Baseball League for ten years.
Above all else, he loved being a teacher and a coach. After graduating with his master's in education from the Ohio State University in 1951, he accepted a position at Edison, where he taught and volunteered as a coach. In 1955, he transferred to Baker, where he acted as head coach and taught various classes, including physical education. He then moved on to coaching football, track, and basketball at Harding High School in 1958, and there, he taught for only one year: the year the football team won the State Championship. Beginning in 1959, he accepted the position of principal at Pearl Street Elementary School, where he stayed for 25 years until he retired from education and accepted a position as the director of Marion Recycling and Litter Prevention and worked for the next 15 years.
He is survived by his wife Marie Zeisler of Marion; his daughters Julia Zeisler, Joanna Moore, and Esther Nelson of Marion and Sarah Truitt of Columbus; his sister Marjorie Higdon of Marion; eleven grandchildren; and nine great-grandchildren.
He was preceded in death by his parents John and Hazel, two brothers, and four sisters.
Calling hours will be held on Thursday, March 22, 2018 from 5 PM to 8 PM at the Boyd-Born Funeral Home. Services will take place on Friday, March 23, 2018 at 11 AM at Epworth United Methodist Church. Burial will follow at Marion Cemetery.
Memorial contributions may be made to the Prexy Play Scholarship through the Marion Community Foundation to support athletic, musical, and other extracurricular opportunities for students at Grant Middle School and Marion Harding High School. Mail donations to Marion Community Foundation, 504 South State St., Marion, Ohio, 43302.
Condolences may be expressed to the family online at www.boydbornfuneralhome.com.