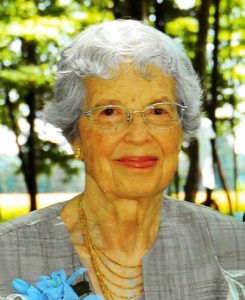 Mary Elizabeth Cade Hoover, age 100, of Marion, died on Monday, March 5, 2018, at Primrose Retirement Community.
She was born November 2, 1917, in Canton, Ohio, to Bertha and Robert Cade. In 1945, she married William D. Hoover in Santa Ana, California. He died in 1984. Mary had been a resident of Marion since 1946. She was influential in starting the kindergarten program at Pleasant. She was a Girl Scout Leader and a 4-H advisory for many years. She was a member of St. Mary Church serving on the church's Social Concerns Commission.
Surviving are 2 sons, Donald (Lola Pryor) Hoover of Caledonia and Harley (Susan) Hoover of Marion, 2 daughters, Diana (Steve Harsh) Hoffman of Plain City and Kathleen (Joseph) Tobin of Marion, 8 grandchildren, and 14 great-grandchildren. Four brothers are deceased: Paul Cade, Ben Cade, Bernard Cade, and Edward Ashbaugh.
Services will be conducted at 10:00 a.m. on Friday, March 9, at St. Mary Church in Marion, Ohio, by Fr. Thomas Buffer. Burial will be in Pleasant Cemetery. Visitation is from 4 to 7 p.m. on Thursday, March 8, at the Snyder Funeral Homes, GUNDER/HALL Chapel, 347 W. Center St., Marion, Ohio.
Memorial contributions to St. Mary Church. For online condolences visit www.SnyderFuneralHomes.com.