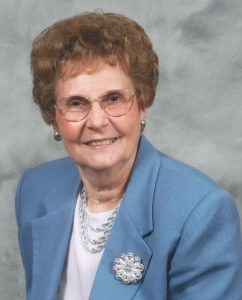 Anna M. (Hoover) Carey, age 87 of Marion, OH, went to see the Lord on Wednesday April 11, 2018.
Anna was born in Lima, OH to the late George Hoover and Mildred (Sherman) Shuster on April 19, 1930. She married the late Douglas Carey on February 27, 1953.
Anna was a member of the Emanual Lutheran Church. She retired from the U.S. Post Office in Marion, Ohio and volunteered many years at the Ohio Health Medical Center. She loved her family and enjoyed traveling to visit family members. She liked to follow the Ohio State University Football and Basketball. She will truly be missed.
Anna is preceded in death by her parents; her husband: Douglas Carey; her son: Phillip and her brother: Richard Hoover.
She will be missed by her daughters: Karen Millisor (Larry) Strickland of Morral, OH, Pamela (Dale) Duston of Westminster, CA, Janet (Ed) Goulet and Barbara (James) Hay both of Pasco, WA; her sister: Edith (Ray) Hosey of Findlay, OH; her brother: Bill (Jackie) Hoover of Chandler, AZ; her granddaughters: Stephanie Duston of Lake Forest, CA, Brie Strickland of Marion, OH, Jodi (Justin) Wall of LaRue, OH, Jill Rockfellow of Marion, OH and Jena (Steve) Koch of Bakerfield, CA; her grandsons: Joshua Duston of Garden Grove, CA, Robert Stallsmith of Marion, OH, Michael Stallsmith of Marblehead, OH and Chad (Missy) Stallsmith of Marysville, OH; many great grandchildren; a great great grandson; and nieces and nephews.
Friends and Family may come to honor Anna's life on Sunday April 15, 2018 starting at 4pm to 8pm at the Boyd-Born Funeral Home. A funeral service will be held on Monday April 16, 2018 starting at 11am at the Emanuel Lutheran Church in Marion, OH. Burial will follow service at the LaRue Cemetery.
In lieu of flowers, donations may be given in Anna's memory to Emanual Lutheran Church or Kindred Hospice of Marion. Online condolences may be expressed to the family at www.boydbornfuneralhome.com.