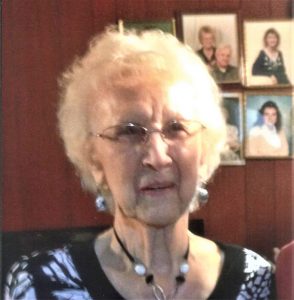 Dora Mae Pennington, age 82 of Marion, passed away on Thursday, April 12, 2018 at Riverside Methodist Hospital. On September 19, 1935, she was born to the late Ross Rowen and Nila Mildred (Barrick) King in Dellroy, Ohio, and on November 16, 1952, she married her husband Max E. Pennington, who survives in Marion.
Dora was a past member of Wesley United Methodist Church, and she was a devoted Christian woman who read scripture every morning. She was a wonderful homemaker, always putting her family first and everyone's needs before her own, and she was a dedicated caregiver for her husband. She enjoyed family get-togethers, and she was an incredible cook. She also enjoyed gardening, planting flowers every spring, and keeping her home immaculately clean. She lit up any room she walked into, and she will be dearly missed by her family, friends, and all who knew her.
She is survived by her husband Max; her daughters Jane (Ron) Jewell and Kathy Stallings of Marion; her sons Steven (Yvonne) Pennington and Michael (Sheryl) Pennington of Marion; her sisters Mildred Graham of Dellroy, Ohio, Ellen (Ronnie) Jones of Dover, Ohio, and Donna (Dean) Rinehart of Carrollton, Ohio; her brother Robert (Barb) King of Dellroy, Ohio; seven grandchildren; fifteen great-grandchildren; and two great-great-grandchildren.
She was preceded in death by her parents Ross and Nila; her brothers Owen Day and Lester Gamble; her sister Bertha Imes; and her great-grandson Cooper Michael.
Calling hours will be held on Wednesday, April 18, 2018 from 5 PM to 7 PM at the Boyd-Born Funeral Home and on Thursday, April 19, 2018 from 12 PM to 1 PM at the Marion Bible Fellowship, 590 Forest Lawn Dr., Marion, Ohio. Services will take place on Thursday, April 19, 2018 at 1 PM at the Marion Bible Fellowship. Burial will follow at Marion Cemetery.
Memorial contributions may be made to Ohio Health Hospice or the American Cancer Society. Condolences may be expressed to the family online at www.boydbornfuneralhome.com.