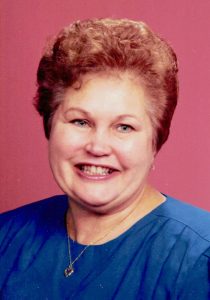 passed away April 12, 2018 at Marion General Hospital. Linda was born May 1, 1942 in Oak Hill to the late Gilbert and Marcella Crabtree.
Linda graduated from Harding High School in 1960 and married Clifford Roush the same year. She helped her husband open Cliff Roush Plumbing and Heating in Marion in 1968 where they worked for 40 years until retiring in 2008.
Linda enjoyed the summertime with her family, playing cards and being in her flower beds, especially caring for her roses. She enjoyed bowling and traveling the world, which she did extensively with her long-time friend, the late Barbara Miller.
Despite her adventurous side, Linda loved being at home in Marion County. It's where she lived nearly her entire life. It's where she raised her children and grandchildren. It's where she baked and decorated countless cakes in all shapes and sizes to fit her grandchild's themed birthday party every year. It's where Cliff took her on rides in classic cars like the ones he used to own when they met more than 60 years ago.
Her family will miss her deeply.
She is survived by her two children, Robin (Mike) Mines and David (Lynn) Roush, both of Marion; three brothers, Stan (Diane) Crabtree, of Texas; Greg (Linda) Crabtree and Dan (Debbie) Crabtree, both of Marion; three grandchildren, Austin (Rachel) Roush, Spencer (Jon) Remoquillo and Noah Mines; and two great-grandchildren.
She is preceded in death by her parents and her sister in-law Diane Crabtree.
Visitation will be Wednesday April 18, 2018 at Snyder Funeral Homes, GUNDER/HALL Chapel, 347 West Center St. Marion from 4PM to 6PM; A memorial service will immediately follow at 6PM.
If so desired, donations may be made to the American Heart Association or American Diabetes Association.
The Snyder Funeral Homes of Marion are honored to be serving the Roush family; condolences may be expressed to the family by visiting www.SnyderFuneralHomes.com