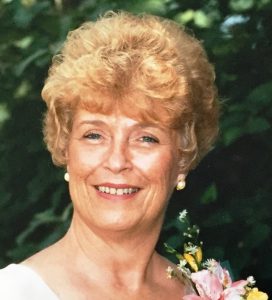 Linda Lois (Pfeiffer) Rish, 76, of Marion passed away peacefully at Fairhaven Community in Upper Sandusky on Sunday, May 6, 2018 after an extended illness.
She was born July 31, 1941 in Kenton, OH, the daughter of Lloyd and Catherine (Roby) Pfeiffer.
Linda graduated Kenton High School in 1959 and worked in the banking for over 30 years.
She met her loving husband James (Jim) Rish on a blind date in 1964 and they married on September 18, 1965. Their love in this world endured for almost 53 years and will continue into the afterlife.
Linda is survived by her husband Jim Rish of Marion, OH; children Victoria Rish of Dayton, OH and Karen (Michael) Hogue of Cincinnati, OH; siblings, Susan Jolliff of Kenton, OH, Sandra (Timothy) Holbrook of McGuffey, OH; grandchildren, Andrew and Kristin Hogue; and numerous nieces, nephews, and friends. She was preceded in death by her parents, aunt Dorothy Pfeiffer, and brother-in-law Timothy Jolliff.
Linda had a passion for her family; she enjoyed the beauty of sunflowers, feeding the birds in her backyard, and was an avid NASCAR fan. She was a kind-hearted soul who always put others before herself. She will be missed by all who knew her.
Linda's family will receive friends on Wednesday, May 9, 2018 from 4PM to 7PM at Snyder Funeral Homes, GUNDER/HALL Chapel, 347 W. Center St, Marion, OH 43302. A celebration of life service will be held Thursday, May 10, 2018 at the funeral home at 10AM; family and friends may call from 9AM until the time of the service. Linda will be laid to rest in Pleasant Hill Cemetery near Big Island, Marion, OH following the service.
In lieu of flowers, memorial contributions in Linda's name may be directed towards Fairhaven Community, 850 Marseilles Avenue, Upper Sandusky, OH 43351-1648 or Kindred Hospice, 1199 Delaware Avenue #102A, Marion, OH 43302.
The Snyder Funeral Homes of Marion are honored to be serving the Rish family; condolences may be expressed to the family by visiting www.SnyderFuneralHomes.com
Similar Posts: