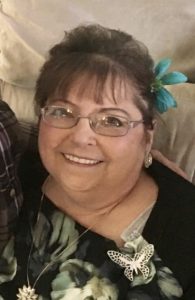 Karen Diane Deel, 62 of New Bloomington, died Saturday evening, June 30, 2018 at her home.
She was born December 9, 1955 in Barnesboro, Pennsylvania to the late Calvin and Delores (Stiffler) Smith.
On August 27, 1994 she married Ed Deel in Leavittsburg and he survives in New Bloomington.
She enjoyed making crafts, especially jewelry. Karen had a special love for butterflies. She loved hosting holiday meals and spending time with her grandchildren and great-grandchildren.
Besides her husband, she is survived by a daughter, Melanie (Brian) Kalb, New Bloomington; a granddaughter, Emily Kalb; a step-granddaughter, Boston (Zachary) Winslow; three step-grandchildren, Hallie, Hartley and Riggins; four brothers, Tim (Angela) Smith, Valrico, Florida; Roger Smith, Leavittsburg; Mark (Debbie) Smith, Cortland; Kirk (Rita) Smith, Leavittsburg; two sisters, Cindy Hicks, Jefferson City, Missouri; Tammy (Richard) Long, Leavittsburg.
Funeral services will be Friday, July 6, 2018 at 11:00 AM at the Stofcheck-Ballinger Funeral Home, LaRue with Pastor Kathy Herr officiating. Burial will follow in Agosta Cemetery. Friends may call from 5 to 7 PM on Thursday at the funeral home in LaRue.
Memorial gifts may be made to New Bloomington United Methodist Church.
Condolences and remembrances may be expressed at www.stofcheck-ballinger.com