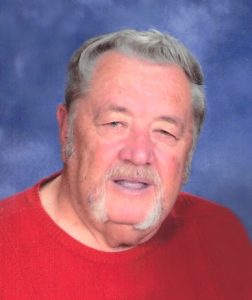 Marvin E. "Marv" Bosh, age 80, of Marion, has "gone fishing" with the Master of the sea at his heavenly fishing hole on Wednesday, August 22, 2018. He died peacefully in his sleep.
On August 19, 1938, Marv was born in Marion, Ohio, one of five children of the late Royal "Whitey" and Iva Marie (Miley) Bosh. He graduated from Marion Harding High School in the class of 1956.
During Marv's junior year in high school, he fell for a young sophomore gal, Barbara Lehner. They were high school sweethearts who married shortly after school on September 20, 1958. They cherished their fifty nine years together, only a month shy of sixty years.
A self-made man, Marv started working at Fairfield Engineering in high school as a blue printer. He worked his way up the ranks there, teaching himself to be a draftsman / design engineer. He worked there for forty seven years, retiring in 2003, shortly before they closed. He truly was a perfectionist, never quitting any job until everything was fixed to his satisfaction. And he could fix anything…
Marv was a faithful member of the Emanuel Lutheran Church. He also was a life member of the Marion Moose Lodge 889, where he previously held all offices, and a member of the State Board of the Ohio Moose Association, where he served as the bowling secretary for many years.
Inheriting a love for fishing from his father, Marv started fishing with his Dad up in Alpena, Michigan, when he was just seven years old. He continued fishing there for seventy three years, as his family and friends just returned from their most recent fishing adventure there just a few weeks ago. His whole family will cherish the wonderful memories made up on Thunder Bay River. When he wasn't fishing, he also loved bowling and golf.
A Chevy man, Marv had many Camaros and Corvettes over the years. In his younger days, he would wash and wax his Chevy every week. He also loved playing cards, especially Uno, with his grandchildren for hours and hours, and no one will ever know who the one cheating was.
One of a kind, Marv had his own unique way of doing everything. He also made it well known that it was "his way or the highway." Despite his gruff exterior though, everyone in the family knew he loved them dearly. He was the rock in the family. He was always there for you, ready to "fix" anything you needed.
Left to cherish his memory are his beloved wife, Barbara Bosh; two sons: Douglas Bosh and Timothy (Christina) Bosh; five grandchildren: Brent (Stephanie) Bosh, Tara (Eric) Tackett, Shayna Bosh, Matthew Bosh of WI, Eric Bosh, and Austin Bosh; eight great-grandchildren: Brenden, Hunter, Owen, and Maggie Bosh, Addalyn Pratt, and Chloe, Kylie and Kaden Tackett; a great-granddaughter, Emree Tackett; four siblings: Sandy Thaw, Nancy Bosh, Sara Shonk, and Gerald (Patricia) Bosh of WA; a brother-in-law, Gene (Joyce) Lehner; a sister-in-law, Charlene (Dave) Mattison of TX; and numerous nieces and nephews.
His family will greet friends from 4 – 7 p.m. on Friday, August 24, 2018, at the Snyder Funeral Homes, DENZER Chapel, 360 E. Center St., Marion. His fellow Moose members will hold a Pilgrim service there at 5:30 p.m. Services honoring his life will also be held there at 11 a.m. on Saturday, with Pastor Kevin Kehn officiating. Burial will follow in Grand Prairie Cemetery.
Memorial contributions may be made to the Emanuel Lutheran Church, 241 S. Prospect St., Marion, OH 43302.
Snyder Funeral Homes of Marion are honored to serve Marv's family and your favorite memories and condolences may be shared with them via www.SnyderFuneralHomes.com.