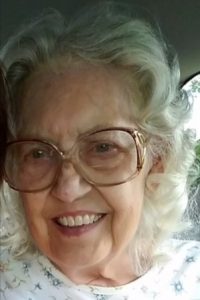 Annabelle Willey, 88, of Waldo, died early Tuesday morning September 11, 2018 at the Delaware Court Nursing Home.
She was born October 22, 1929 near Radnor to the late Harry and Bernice Miley, she was also preceded in death by her siblings: Carl and Dwight Miley and Polly Kline
Annabelle was a 1947 graduate of the Radnor High School. She along with her husband, owned and operated the former Del Mar Hotel in Delaware, she was especially diligent with the everyday cleaning. She then went to work for the Delaware Schools in the cafeteria until her retirement.
Annabelle was a dedicated wife, mom, and grandma. She was selfless to a fault, always thinking of others and never wanting to be in the spotlight.
She enjoyed long rides in the country, especially during the fall. Camping, fishing and traveling with her family were some of her favorite things.
She will be remembered for her care of her family, Annabelle was like a second mom to her grandaughter. Annabelle loved Christmas time and always made it special for everyone.
Her usual breakfast of cookies and coffee with Clyde will be missed.
Surviving is her husband of seventy years, Clyde A. Willey, they were married in 1948 in Prospect. Also surviving are her sons: Larry (Christina) Willey and Dan Willey both of Waldo,
Grandchildren: Jon (Brandy) Willey, Dustin Willey and Logen Willey, great grandson: Jett Willey
Funeral services will be held Friday September 14, 2018 at 2:00 pm at the Stofcheck-Ballinger Funeral Home in Prospect, Pastor Sarah Schaaf will officiate, burial will follow in the Prospect Cemetery, friends may call two hours prior to the service beginning at noon at the funeral home in Prospect.
Memorial gifts may be made to the Marion Area Humane Society, 2264 Richland Road Marion, OH 43302
Condolences and remembrances may be expressed at www.stofcheck-ballinger.com