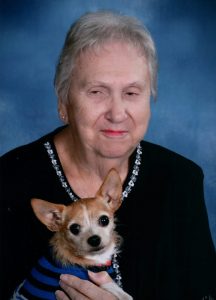 Norma J. "Foxie" Fox, 88, of Prospect, died peacefully Wednesday evening September 12, 2018 at her home surrounded by her loving family.
She was born June 3, 1930 in Marion County to the late David B. and Cora M. (Seiter) Neidhart, she was also preceded in death by a son: Michael Fox, siblings: Clarence, Lester and Edward Neidhart, Livina Bush Martin, Edna Cochran and Viola Cratty
Norma was a 1948 graduate of the Pleasant High School. She was a devoted member of the Prospect United Methodist Church, a longtime farmer and had worked at the former B. F. Goodrich plant for over 12 years.
Norma enjoyed traveling and the different seasons of the year, Halloween was her favorite time of the year.She will be remembered for her ornery, fun loving style, she would never pass up a good prank.
Surviving are her children: James (Conchita Bradshaw) Fox, Campbellton, Florida, Susan Fox, Prospect and Cathy (William Williams) Fox, Prospect
Grandchildren: Clinton, Calista, Kimberly, Kody, Corry, Ian, Aaron and Casey
eight great grandchildren
Funeral services will be held Monday September 17, 2018 at 11:00 am at the Prospect United Methodist Church, Pastor Jerry Lewis will officiate, burial will follow in the Prospect Cemetery, friends may call Sunday from 2-4 pm at the Stofcheck-Ballinger Funeral Home in Prospect.
Memorial gifts may be made to the Prospect United Methodist Church at P. O. Box 6, Prospect, OH 43342
Condolences and remembrances may be expressed at www.stofcheck-ballinger.com