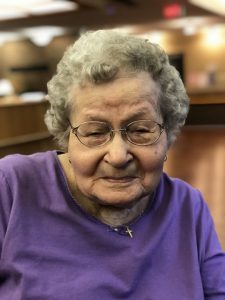 Lucille was born Lucille Francis Boyd on May 26th, 1917 in Lima, Ohio and passed away peacefully in her sleep on Friday, October 12, 2018. Lucille was 101 years old.
She was married to the late Burton E. Grogg in March of 1936. She was the mother of 6 children: the late Bettie (Tom) Claytor of Shelby, Ray (Sandy) Grogg of Marion, the late Shirley (Bob) Huckaba of Richwood, the late Ralph Grogg (Pat) of FL, Neva (John) Heacock of Cardington, Jack (Pat) Grogg of Casa Grande, and AZ and Cheryl (Ricky) Shockey of Campton, KY.
"Cookie Grandma" had many grandchildren, great-grandchildren and great-great grandchildren. Lucille also has an older sister, Millie Parker, who currently resides in Kenton, Ohio.
Lucille has enjoyed a lifetime of canning, baking, and gardening, as well as daily journaling for many years. She liked to read, and enjoyed big band music and some sewing projects. Lucille also enjoyed time spent with family and friends. She was a member of the Red Hats and Purple Ladies as well as serving as the president of Resident Council at the Presidential Center where she was a resident.
Special thanks to the staff and residents of Presidential Nursing Center for all the love and care that Lucille and her family were shown. Special thanks also to the staff of Heartland Hospice. Words cannot express our gratitude for your care and concern.
A Memorial Service will be held on Sunday, October 14th, 2018 at 2pm at the Boyd-Born Funeral Home, 122 W. Columbia St., Marion.
Memorial contributions may be made to Heartland Hospice, 685 Delaware Ave., Suite 300, Marion, Ohio, 43302. Condolences may be expressed to the family online at www.boydbornfuneralhome.com.