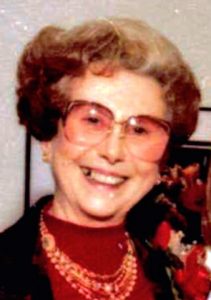 Doril M. Vanscoy, age 92, of Marion, went to be with the Lord on Sunday, November 18, 2018, at the Lexington Health and Rehab Center in St. Petersburg, Florida.
On August 6, 1926, Doril was born in Bloomingdale, Michigan, the third of five children of the late Charles W. and Hazel L. (Shears) Overdorff.
Shortly following school, Doril married Lee Emerson Welch, whom she lost on March 9, 1944, as a casualty of World War II.
Getting a second chance at love, Doril married Earl Allison Vanscoy on April 7, 1951, at the Calvary Evangelical United Brethren Church in Marion. She cared for her husband and son, Michael, as a loving homemaker until his passing on August 18, 1975.
A strong woman, Doril persevered after the loss of her husband, returning to work at Marion General Hospital in their physical therapy department for over twenty years. She proudly retired from there in January of 1996.
Very faithful, Doril was a member of the Christian Missionary Alliance Church in Marion, which later became the Cornerstone Alliance Church.
For the past eleven years, Doril has enjoyed living in the warmth of St. Petersburg, Florida.
Left to cherish her memory are her sister, Aletha Rawlins of Marion; nieces: Christina (Richard) Lehner, and Mary Anderson; nephews: Terry Rawlins and Tom (Teresa) Bare; and special friend, Marilyn Hottinger.
Including her husbands and parents, Doril was preceded in death by her son, Michael A. Vanscoy in 2008; two brothers: Evert and Robert Overdorff; sister, Lulu Bare; nephew, Cliff Bare; and her brother-in-law, Roy Rawlins.
Services honoring Doril's life will be observed at her graveside in Marion Cemetery at 11 am on Wednesday, November 28, 2018, with Pastor Keith Irey officiating.
Memorial contributions may be made to Child Evangelism Fellowship Inc., PO Box 348, Warrenton, MO 63383, or Suncoast Hospice, 5771 Roosevelt Blvd, Clearwater, FL 33760.
Snyder Funeral Homes of Marion are honored to serve Doril's family and your favorite memories and condolences may be shared with them via www.SnyderFuneralHomes.com.