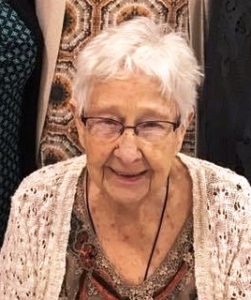 Eleanor L. Gibson, age 95, of Marion, went to be with the Lord on Saturday, November 17, 2018, at Heartland of Marion with her loving family by her side.
On November 7, 1923, Eleanor was born in Marion, Ohio, the daughter of the late Monte W. and Edna E. (Harger) Swindler. She graduated from Marion Harding High School in the class of 1941. She also worked at White Haines Optical, as an optical technician and helping with office work.
At a local roller skating rink, Eleanor met a young man, Carl J. Gibson, shortly before he went off to war. Upon his return from the service, Eleanor was enamored with the man Carl had become and from there their courtship began. They were married on July 3, 1948, and shared thirty five wonderful years of marriage. Together they lovingly raised five children: Connie, Kenneth, Kraig, Carla, and Jackie. He preceded her in death on December 12, 1983.
A woman of faith, Eleanor was an active member of the Central Christian Church, where she loved being a part of the Ruth Group and where she taught Sunday School. She served as treasurer of the Whitney Lodge 846 United Transportation Union. She also was on the PTA, was a room mother and provided hospitality to many of the children at Oakland Elementary Schools. After her husband Carl passed, she enjoyed serving her community by working at the election polls for numerous elections, where she discretely held to her democratic values.
The caretaker of the family, Eleanor was the one everyone in her family turned to in their time of need. She cared for her husband and children as a loving homemaker, and devoted wife and mother. She was a proud grandmother of nine, and special "Grandma GG" to twenty two great-grandchildren.
Wanting to give gifts to her grandchildren, Eleanor took up the hobby of quilting and embroidery. She proudly made comforters for all of them when they went off to college, and she enjoyed making pillow cases and wall hangings too. One of her few vices in life was her love of shoes.
Precious in so many ways, Eleanor was the best wife, mother, grandmother and great-grandmother her family could have asked for. They all admired her for patience and strength, and always putting the needs of others before her own.
Left to cherish her memory are her three daughters: Connie (Bob) Sycks of Piqua, OH, Carla (Gary) Habegger of Berne, IN, and Jackie (Jesse) Hines of Marion, OH; nine grandchildren: Jennifer Sycks, Elizabeth (Deron) Johns, Kimberly (Bryan) Fisher, Lucinda (Jeff) Bradley, Kirk (Stefany) Habegger, Amanda (Kyle) Sprunger, Brent Habegger, Tara (Jeremy) Davis, and Brian (Elizabeth) Hines; 22 great-grandchidren: Karley, Brennan, Lillian, Kayla, and Brysan Johns, Keaton, Kendon, Kyle and Haley Fisher, Kolton, Cameron, and Taylor Bradley, Baden, Beckum, and Dashton Habegger, Cade and Hadley Sprunger, Brooklynn and Sawyer Curts, Morgan Davis, and Brayden and Preslie Hines; sister-in-law, Patt Jason; and several nieces and nephews.
Including her husband and parents, Eleanor was preceded in death by her twin sons: Kenneth and Kraig Gibson; and both brothers: Paul and LeRoy Swindler.
Her family will greet friends from Noon – 2 pm on Friday, November 23, 2018, at the Central Christian Church (address below). Services honoring her life and celebrating her faith will follow there at 2 pm, with Pastor Scott Ferguson officiating. Burial will follow in Marion Cemetery.
Memorial contributions may be made to Central Christian Church, 421 Mt. Vernon Ave, Marion, OH 43302, OhioHealth Hospice, 278 Barks Rd W, Marion, OH 43302, or to Heartland of Marion, c/o Activity Fund, 400 Barks Rd W, Marion, OH 43302.
Snyder Funeral Homes of Marion are honored to serve Eleanor's family and your favorite memories and condolences may be expressed to them via www.SnyderFuneralHomes.com.