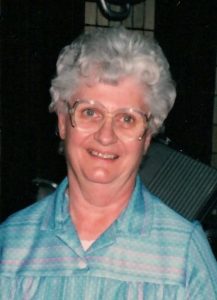 Helen Jean Hines, 89 of Richwood, died early Saturday morning, November 3, 2018 at Heartland of Dublin.
She was born March 3, 1929 to the late Ralph and Pauline (Howison) Wood in Leesburg Township in Union County. On April 17, 1949 she married Robert E. "Bud" Hines in St. Paul's Lutheran Church by Rev. Paul Dobberstein. Bud died September 4, 2002. She was also preceded in death by a son, Robert Steven Hines, a brother, Kenneth Wood, and sisters-in-law, Betty Wood and Beverly Wood.
Helen was born and raised on a farm and retained those values throughout her lifetime. She had a hard time throwing things away that had some value and loved tending to her garden, canning and cooking. Her biggest joy was spending time with her grandchildren.
She is survived by a son, Roger Hines, Lewistown; a daughter, Linda (John) Miller, Richwood; a daughter-in-law, Mary Ann Hines, Marysville; three grandchildren, Lorie (Jim) Durst, Marysville; Kirby Hines, Minneapolis, Minnesota; Cody Hines, Columbus; two great-grandchildren, Gage Durst (Nenzoski) and Brody Durst; two step-grandchildren and five step-great-grandchildren; a sister, Donna Engle, Broadway; a brother Richard (Janet) Wood, Marion; and many nieces and nephews.
Funeral services will be Thursday, November 8, 2018 at 11:00 AM at the Stofcheck-Ballinger Funeral Home, Richwood with Pastor Joe Rhea officiating. Burial will follow in Price Cemetery.
Friends may call on Wednesday from 5 to 7 PM at the funeral home in Richwood.
Memorial gifts may be made to Heartland Hospice Services of Columbus,
6500 Busch Blvd., Suite 210, Columbus, OH 43229-1728
.
Condolences and remembrances may be expressed at www.stofcheck-ballinger.com