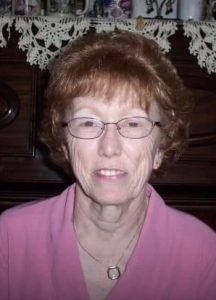 Janet Eileen Markin, 74 of Richwood, went to meet her lord peacefully late Friday evening November 9, 2018 at the Memorial Gables in Marysville following a short illness.
She was born October 12, 1944 near Unionville Center to the late Julius and Ada Blanche (Nunamaker) Bliss, she was also preceded in death by her husband Larry Lee Markin on February 12, 2005, they were married July 10, 1976, also preceding her in death were her brother: Emerson Bliss, sister-in-law: Ernestine Stump and brother-in-law: Ralph Nunamaker
Janet graduated from the Byhalia-York High School, class of 1962. She was a longtime and dedicated member of the York-McKendree and then York United Methodist Churches, she was also an active helper at the Richwood First United Methodist Church's personal needs pantry.
Janet started her working career at the Plaza Inn in Mt. Victory, she then worked for the North Union Schools at the Byhalia building and then the Middle School, she finally retired in 2001 from O.M. Scots Co. after 32 years.
Janet was a doer with a Christian heart of gold, always thinking of everyone else's needs first. She was active with the local alumni and member of the Carpe Diem Club in Richwood.
Surviving are her sister: Wilma (Lewis) Oller of Yuma, Arizona, brother: Robert (Louise) Bliss of Circleville, sisters-in-law: Carolyn Bliss of Marysville and Jewell Markin of Richwood
Many nephews, nieces, cousins and friends
Funeral services will be held Thursday November 15, 2018 at 11:00 am at the York United Methodist Church, Pastor Carl Redding will officiate, burial will follow in the York Cemetery, friends may call Wednesday from 5-7 pm at the Stofcheck-Ballinger Funeral Home in Richwood.
Memorial gifts may be made to the York United Methodist Church at 28170 State Route 739 West Mansfield, OH 43358
Condolences and remembrances may be expressed at www.stofcheck-ballinger.com