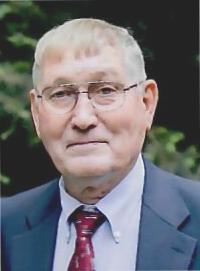 Ora F. "Jack" Payne, 82 of Richwood, died early Wednesday October 31, 2018 at his home.
He was born February 17, 1936 in Union County to the late Paul and Edna (Smith) Payne, he was also preceded in death by a son, Seth Payne and one brother, Joseph P. Payne Sr.
Jack was retired form Master Chemical in Perrysburg, where he worked for 25 years. He was a longtime member of the Claibourne United Methodist Church, where he taught the adult sunday school class for many years. He was a veteran of the U.S. Air Force. Member of the Baccarat American Legion Post 40 in Richwood, Mt. Carmel Lodge #303 F. & A. M., Richwood, AASR Valley of Columbus Scottish Rite and the Aladdin Shrine.
Jack enjoyed spending time with his family and friends, he also liked to go fishing, pitch horseshoes and work in his garage.
On August 18, 1957 in Circleville, he married Mona (Mowery) and she survives, also surviving is their sons: Brian Payne of Richwood and Lyle Payne of Belle Center, two grandsons and several great grandchildren
Siblings: James Payne of Richwood, Jerry (Virginia) Payne of Mt. Dora, Florida and Marlene Reece of Richwood
Graveside services will be held privately at the Claibourne Cemetery, Pastor Kelly Fox will officiate, followed by Military Honors conducted by the Richwood Area Veterans.
Memorial gifts may be made to Loving Care Hospice at PO Box 613 Marysville, Ohio 43040 and or the Claibourne U.M. Church c/o Linda Carrel 15957 Harmon Patrick Rd. Richwood, Ohio 43344
Condolences and remembrances may be expressed at www.stofcheck-ballinger.com