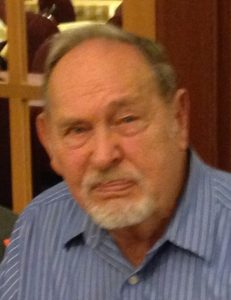 William L. Daugherty, 84 of Richwood, died Monday November 19, 2018 at the Riverside Methodist Hospital.
He was born February 6, 1934 in Kenton to the late Carl L. and Mary (Coats) Daugherty, he was also preceded in death by his wife: Ann R. (Robinson), they were married June 3, 1956 and she died February 1, 2005, also preceded in death by his son: Jon Lowell Daugherty and one sister: Marlene Coats Holland.
Bill was veteran of the Army, serving our country during Korea. He worked for Fairfield Engineering in Marion for over thirty years, retiring in 1999.
Bill was a longtime devoted and active member of the Richwood First United Methodist Church, where he volunteered many hours with the personal needs pantry. He was always involved with whatever was needed, when his kids were younger, he helped as coach, 4-H leader among many others.
Bill was also very active with the Richwood Civic Center, volunteering there and also serving as a current board member. He enjoyed playing euchre and bingo at the center.
Bill was a talented woodworker, making many treasures for his family and friends over the years. One to never sit still, Bill loved to travel, go to shows and just be with people.
While doing all of these things for other groups, the most important group to him was his family, he cherished the time he was able to spend with them. (he loved playing "Farkle")
Surviving are special friend: Barbara Miller of Richwood, his children: Scot W.L. Daugherty of Kenton, Paula C. Moore of Columbia, S.C. and Debra R. Allison of Land O Lakes, Florida, grandchildren: Caine Lowell and Adam Jon Daugherty, Matthew Phillip, Michael Scott and Mark William Moore, James Lee Seymour, Margret Eileen DeLaRocha, Caroline Jera Collins and Samantha Stinemetz
Ten great grandchildren
Funeral services will be held Sunday November 25, 2018 at 4:00 pm at the Richwood First United Methodist Church, Pastor Joseph Rhea will officiate, followed by Military Honors conducted by the Richwood Area Veterans. Friends may call two hours prior to the services beginning at 2 pm at the church
Memorial gifts may be made to the Richwood Personal Needs Pantry at 18 South Fulton St. Richwood, Oho 43344 and the Loving Care Hospice at PO Box 613 Marysville, Ohio 43040
Condolences and remembrances may be expressed at www.stofcheck-ballinger.com