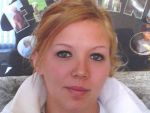 The Marion County Adult Probation Department is seeking 20-year-old Jessica Aldridge. She is a white female, 5'7" tall and 170 lbs with blue eyes and blonde hair. Her last known address is 635 Lee St. although most recently she was a resident at Foundations Halfway House in Marion from where she left without permission.
Aldridge was placed on Community Control in September of 2011 for a Burglary conviction and has stopped reporting to her Probation Officer.
If you know of Aldridge's whereabouts, you are urged to contact the Adult Probation Department anonymously at 740-223-4230 or local law enforcement. The Tip Line is available 24 hours a day at 740-375-TIPS.