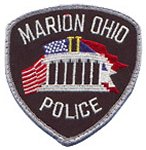 A Marion Police Department detective was seriously injured when he was bitten by a dog while attempting to make arrests for drug trafficking at a home on Avondale Avenue Thursday afternoon. Officials say the search warrant was the result of several months of drug investigation in regards to this residence.
On February 2, 2012, at approximately 1:40 pm, officers of the MARMET Drug Task Force and the Marion Police Department executed a search warrant for drugs at 516 Avondale Avenue in Marion.
Officers say that upon their arrival, a female was leaving the residence, but when she saw the officers, she ran back into the house. Officers say they gave chase and followed the female inside the front door.
Police Major Bill Collins says that once inside the front door, police Detective David Troutman was attacked by a large pit bull dog. The pit bull bit Troutman on the arm and would not let go. Three officers, including Troutman, fired several rounds into the dog before the dog let go, according to Collins.
Detective Troutman was rendered first aid at the scene and transported by the Marion City Fire Department to Marion General Hospital. Troutman was later transferred to Riverside Hospital for surgery due to the dog bite. The injuries were described as not being life threatening.
Investigators say approximately four grams of heroin, along with a firearm, was located in the residence. A total of five children, five adults, and three pit bulls were present in the residence at the time of the incident.
Three adults and one juvenile were arrested as a result of this raid. Jennifer Tiller, 30, of 516 Avondale, was arrested for Trafficking in Heroin. Phyllisa A. Cooper, 29, of 190 Glad Street, was arrested for Obstructing and Drug Abuse. Karen J. Prise-Hughes, 39, of 3244 Marion-Mt. Gilead Road, was arrested for a Warrant and Fail to Appear.
The dog that bit the officer was killed in the altercation. The other adult dog, a female, was taken into custody by the dog warden. The other dog, a pit bull puppy, was allowed to leave with the children. The children in the home, other than the juvenile that was arrested, were released into the care of relatives.
"I am very appreciative of several neighbors that asked, and did render aid upon seeing the injured officer," Major Collins stated in a media release. "I would also like to thank the Marion County Sheriff's Department and Marion County Dog Warden who assisted with the incident."