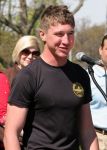 A local marine on leave before being deployed to Afghanistan said he isn't special following his 10-mile run on Friday to raise money for Boys & Girls Club (BGC) of Marion County. Others who spoke at a brief ceremony disagreed with his assertion and expressed pride for his unselfishness.
Marine Corporal Brandon Makowski volunteered to do the run and raise pledges for his effort. He ran the 10 miles on Friday, April 13 from Waldo to Marion with a 50 pound pack on his back. His effort surpassed his goal of raising $3,000.
At the ceremony following his run at Veteran's Park, Marion Mayor Scott Schertzer asked those gathered, "Does this boy have grit?" As the crowd cheered, Schertzer said that Makowski is providing service to his community and country and embodies a true citizen.
Dan Russell, Marion County Commissioner, said he was simply in awe of Makowski, saying that he is an example to the community and that everyone in Marion should be proud of Brandon.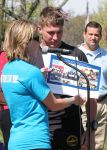 BGC director Allison Miracle said that while Makowski doesn't think he is anything special, "he has a special place in our hearts." Miracle presented Brandon with a calendar featuring photos of BGC kids so that he can count the days he is serving overseas.
Makowski told those gathered that he isn't special and anyone in his battalion could do what he did Friday.
"I just want to leave something good behind," stated Makowski. "I'm not a role model. I'm not a hero."
One person in the crowd was overheard remarking, "He doesn't know how special he is."
You can learn more about Boys & Girls Club of Marion County at their website by clicking here. You can also make a donation in Brandon's name while at their site.