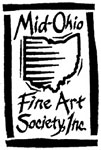 The Mid-Ohio Fine Art Society will present Reclaimed and Restored (a one day, one person showing) featuring the art of Steve Roseberry on April 18, 2014 from Noon to 6:00 pm. A regionally well-known artist, Steve integrates found, reclaimed, and recycled materials into much of his work.
The showing is one of a monthly series of work being shown at the new Barlow Art Center Gallery, 1126 E. Center St., Marion, Ohio.
Admission is free, but donations are accepted and appreciated.
The show is made possible with the help of The Marion Community Foundation and Silver Level Sponsors Carroll's Jewelers and The Guild.
For additional details, visit www.MidOhioFineArtSociety.org or call 740-401-9278.