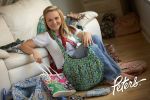 Maci Rife of Harding High School is the recipient of a $500 scholarship from Benjamin Harrison Elementary PTA.
The Tony Caprino scholarship is awarded to a senior who attended the former Indian Mound elementary school and who lived in the Indian Mound district.
Maci plans on attending Heidelberg University. Upon graduation she plans on pursuing a career as a teacher. Maci is the daughter of Pete and Jodi Rife.
Her extra-curricular activities at Harding include: cheerleading, Quiver staff, telecom, class president, multicultural club, international club, & prom committee.
Honors and awards include: National Honor Society, honor roll, merit roll, and four varsity letters.
Similar Posts: