You are here:
Home
/ Obituaries on Marion Online
Posted on December 11, 2013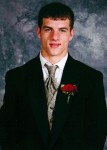 Eric A. Richie, age 26, of Marion, died Sunday, December 8, 2013 after injuries sustained from an automobile accident. Eric was born on January 7, 1987 in Marion. Prior to working for the Royal Group, Eric worked for J LEN CO and U.S.Y. Eric's upmost joy in life was his children, everything he did was […]
Posted on December 11, 2013
Jarred J. Bullion, age 24, of Marion passed away on Sunday morning, December 8, 2013, as the result of an automobile accident. He was born on July 24, 1989 in Marion, Ohio. He is survived by his mother; Kimberly S. (Meachem) Harriman, stepfather; Dana O. Harriman, father; Carl C. Bullion, and stepmother; April (Vance) Bullion. […]
Obituaries are sponsored by…
Obituary Search
To search Marion Online for a specific obituary, just type the name into the search box below.
Marion Public Library Obit Search
The Marion Public Library maintains a database that reaches back to 1984, which is further than our database. To search their data,
click here
to visit their site.
Posted on December 11, 2013
Herman Daniel Pennington age 87 of Marion, Ohio passed away Monday, December 9, 2013 at Kindred Nursing and Rehabilitation Community. He was born January 3, 1926 in Ironton, Ohio to the late James and Edna Pennington. On July 7, 1946 he married Grace E. (Webb). Herman was a U.S. Army Veteran, longtime resident of Marion […]