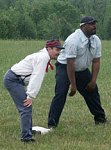 The North Baltimore Cyclones and the Columbus Hawkeyes, vintage baseball teams, will face each other at Marion's Lincoln Park on June 12 at 2:00 pm. Admission to the game is free.
The event starts off with local sports historian, Keith Kohler displaying Marion Baseball memorabilia in White Hall at 1:00 pm. Members of the Cyclones and Hawkeyes will also be available prior to the game.
Baseball for Youth will open the concession up for the event and the Marion County Historical Society will give all attendees a booklet on the history of Marion Baseball.
The Marion County Historical Society asks if you knew the following facts?
The history of baseball in the United States can be traced to the 18th century, when amateurs played a baseball-like game by informal rules and used improvised equipment. The popularity of the sport inspired semi and fully professional baseball clubs in the 1860s.
The 1847 Marion City Ordinance stated: IT SHALL BE UNLAWFUL TO FLY A KITE, PLAY BALL, OR CRICKETT, OR ANY OTHER SPORTING AMUSEMENT WHICH COULD ENDANGER THE PROPERTY OR WELL-BEING OF PERSONS IN THE STREETS OF THE CORPORATION OF MARION? During that time period, persons who played baseball were considered low-class and often were held in the same esteem one would give a crook, burglar or pickpocket.
Abbott's Active Baseball Club was Marion's first organized team and came about in 1870 due to a fellow by the name of Joseph Abbott who came to Marion for a visit and succeeded in infecting the local young men and boys with the baseball bug.
According to local legend, John Darmody, a second-baseman on the Marion Stars ball team, claimed to have made the first unassisted triple play in 1874! This was two years before Haines of the Cincinnati Reds did the same in 1876, which was recorded as the first unassisted triple play.
By 1906 Marion had its own minor league team, the Marion Lime Burners who in 1912 changed their name to the Marion Diggers.
The Marion Red Sox, a minor league baseball team, existed from 1949 to 1951 and played in the Ohio-Indiana League in Marion, Ohio. They won the Ohio-Indiana League championship in 1950 and 1951. Their home games were played at Lincoln Park.
Organizers say you can learn more about Marion's rich baseball history and how the game was once played at Lincoln Park on June 12.
For more information call the Marion County Historical Society at 740-387-4255.