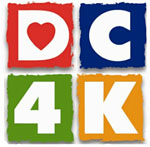 Epworth United Methodist Church invites parents dealing with divorce or separate to consider enrolling in a new  (DC4K) class to help children heal from the hurt caused by separation or divorce. This support group starts January 22, 2013 at 6:30 p.m. for children ages 5 to 12. The 13-week support group includes games, crafts, journaling, and learning about healthy ways to deal with emotions.
"Divorce Care for Kids is an essential outreach that we can provide. DC4K at Epworth United Methodist Church will be the only faith-based divorce care program for children in Marion County, and in fact, in surrounding counties. We welcome children from all churches, or no church at all, to Epworth for this important ministry to children," said Rev. David Hoffman, pastor of Epworth United Methodist Church.
Hoffman says Epworth is blessed to have volunteers with a heart for helping children. Elizabeth Claborn, an elementary school guidance counselor, is a divorced and remarried parent who will be one of the DC4K safekeepers leading the class. Hoffman says Elizabeth's special gift of using puppetry to help children understand the feelings of guilt, anger, sadness as well as joy, peacefulness, and confidence, will be a part of every DC4K class. Doug Warne, a licensed social worker and children's storyteller, is a divorced parent of an adult child. Hoffman says Doug's gift of listening, and really hearing a child, will be a source of healing. Jackie Hamilton, a divorced parent of two, will bring both professional skills and personal experience to her role as a DC4K safekeeper.
Each volunteer has been background checked and trained on the church's safe sanctuary policy.
There is a fee of $20 for healthy snacks and materials, but scholarships are available so no family or child in need will go without. Parents are encouraged to call the church to register their children, in order to be sure they have enough materials for all to participate.
To register for the class, call Sharon Gilbert, Director of Ministries to Children and Families at Epworth at 740-387-8344 ext. 12.
"With so many children our community experiencing the divorce of their parents, Epworth sees this as an opportunity to support children where they are. Whether the divorce is occurring now, or happened several years ago, children need help to understand," said Gilbert. "So many children see the divorce as something they caused, and the guilt is overwhelming. One of our biggest challenges will be to help kids see that divorce was not their fault, and then to find a way to forgive their parents. The church can help children learn to forgive and to understand that God loves all kinds of families."
"I talked with some children in a DC4K class in another county. One girl, about 9 years old, told me that she used to be angry all the time, and she got into trouble at school. Now, she says, I have a place to talk about the anger, and I'm not in trouble at school anymore," Gilbert reports. "A boy, about 11 years old, told me that he used to think that the divorce was his fault. DC4K helped me, he said, to know that it wasn't. These children convinced me that Marion really needed a DC4K group."
In addition to the DivorceCare For Kids group, an adult DivorceCare class is meeting at Epworth at the same time in a different room. Hoffman says this faith-based support group provides a safe, supportive environment to cope with anger, frustration, sadness, grief, in a friendly, caring atmosphere. Each session includes a video on dealing with aspects of divorce such as financial issues, loneliness, and forgiveness. The sessions are lead by those who have experienced separation or divorce. Free childcare is available.
For more information, go to divorcecare.org, dc4k.org, or call Gilbert at 740-387-8344.