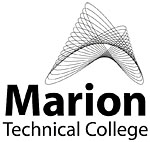 Marion Technical College has named 244 full-time students to its Fall Term dean's list. This is the first dean's list since the college switched from quarters to semesters. To qualify for the scholastic honor, a student must earn at least 3.5 out of a possible 4.0 academic average for the term and be enrolled at MTC as a full-time student.
Part-time students (less than 12 credit hours) during Summer, Fall, and/or Spring Semesters of an academic year are named to the Dean's List after the Spring Term by achieving a minimum accumulative 3.5 GPA with 12 or more credit hours included in the calculation for the three term period. Full-time enrollment in any one of the three terms during the academic year disqualifies a student from achieving Dean's List under the part-time status provision.
Listed below is a roster of dean's list students by hometown.
| | | |
| --- | --- | --- |
| First Name | Last Name | City |
| Molly | Mangett | Arlington |
| Anita | Larsen | Attica |
| Nathan | Waldock | Attica |
| Sharon | Brown | Bloomville |
| Megan | Parker | Bloomville |
| Elizabeth | Stahl | Bloomville |
| Jolene | Allison | Brinkhaven |
| Brittney | Assenheimer | Bucyrus |
| Todd | Case | Bucyrus |
| Kami | Davidson | Bucyrus |
| Aurora | DeJesus | Bucyrus |
| Jesse | Delaney | Bucyrus |
| Ashley | Diebler | Bucyrus |
| Erica | Frye | Bucyrus |
| Sharon | Goin | Bucyrus |
| Natasha | Hensley | Bucyrus |
| Ethan | Howell | Bucyrus |
| Michelle | Miller | Bucyrus |
| Joshua | Muchow | Bucyrus |
| Katie | Rehm | Bucyrus |
| Amanda | Rice | Bucyrus |
| James | Sabo | Bucyrus |
| Jennifer | Spears | Bucyrus |
| Mary | Truka | Bucyrus |
| Jacquelyn | VanScoder | Bucyrus |
| Cheyanne | Willis | Bucyrus |
| Laura | Berry | Caledonia |
| Victoria | Lyon | Caledonia |
| Peggy | McCall | Caledonia |
| Seth | Rossiter | Caledonia |
| Anthony | Sennhenn | Caledonia |
| Miranda | Smith | Caledonia |
| Andrew | VanOosten | Caledonia |
| Jennifer | Bellamy | Cardington |
| Nathaniel | Bowers | Cardington |
| Shirley | Evans | Cardington |
| Lori | Longhenry | Cardington |
| Thomas | Rankin | Cardington |
| Kayla | Rossiter | Cardington |
| Cassidy | Scarberry | Cardington |
| Eric | Snider | Cardington |
| Lora | Vehre | Carey |
| Andrew | Brinson | Centerburg |
| Jennifer | Brooks | Centerburg |
| Bethany | Griffith | Centerburg |
| Tadd | Williams | Chatfield |
| Brandi | Bell | Chesterville |
| Jordan | Bruner | Columbus |
| David | Treneff | Columbus |
| Dawn | Shafer | Columbus Grove |
| Christina | Adkins | Crestline |
| Pamela | Dunford | Crestline |
| Mark | Habick | Crestline |
| Zachary | Perry | Crestline |
| Eric | Wakely | Crestline |
| Charles | Breckler | Danville |
| Charles | Hawkins | Danville |
| Brittany | Edwards | Defiance |
| Patricia | Jordan | Defiance |
| Julia | Bankert | Delaware |
| Hannah | Delp | Delaware |
| Kade | Dillon | Delaware |
| Erica | Kimber | Delaware |
| Jedidiah | Markley | Delaware |
| Valin | Myers | Delaware |
| Tammy | Shaw | Delaware |
| Billijo | Wyatt | Edison |
| Ashley | Naus | Forest |
| Jessica | Pahl | Forest |
| Steve | Clements | Galena |
| Lori | Beeman | Galion |
| Tavis | Enderle | Galion |
| Kelli | Hanlon | Galion |
| Nathan | Selke | Hamilton |
| Zachary | Hinkle | Harpster |
| Kaylee | Lear | Harpster |
| Shileigh | Robertson | Harpster |
| Krista | Thomas | Iberia |
| Christine | Hooe | Kenton |
| Kevin | Titus | Kenton |
| Sandra | Adams | La Rue |
| Hayden | Rees | La Rue |
| Dmitry | Karavaev | Lewis Center |
| Adrianna | Lohr | Lexington |
| Cierra | Call | Magnectic Springs |
| Sabrina | Chapman | Mansfield |
| Ian | Craze | Mansfield |
| Rachel | Lohr | Mansfield |
| Bradley | Loper | Mansfield |
| Rebecca | Duncan | Marengo |
| Haley | Sears | Marengo |
| Anthony | Allen | Marion |
| Nathan | Armstrong | Marion |
| Farrah | Arndt | Marion |
| Andrew | Ash | Marion |
| Michael | Baker | Marion |
| Daniel | Bambrick | Marion |
| Kirstyn | Bashaw | Marion |
| David | Beckman | Marion |
| Rebekah | Bollinger | Marion |
| Jonathan | Bosworth | Marion |
| Jared | Bryan | Marion |
| Kenneth | Carruth | Marion |
| William | Caudill | Marion |
| Rachel | Clausing | Marion |
| Karl | Collins | Marion |
| Lacey | Compton | Marion |
| Christopher | Conkle | Marion |
| Shaina | Coon | Marion |
| Casey | Cox | Marion |
| Naomi | Craig | Marion |
| Kimberly | Cranston | Marion |
| Kristy | Curts | Marion |
| Aaron | Dadisman | Marion |
| Kinster | Davis | Marion |
| Rosella | Davis | Marion |
| Tony | DeSimone | Marion |
| Jessica | Deyarmond | Marion |
| Dustin | Dillinger | Marion |
| Maria | Edler | Marion |
| Richard | Effinger | Marion |
| Dean | Eick | Marion |
| Jordan | Errington | Marion |
| Alex | Faulkner | Marion |
| Melissa | Fitch | Marion |
| Milton | Franklin | Marion |
| Joshua | Gilbert | Marion |
| Michaela | Gordon | Marion |
| Aurelia | Harbolt | Marion |
| Alyssa | Hare | Marion |
| Joshua | Harris | Marion |
| Marvin | Harris | Marion |
| Jeffrey | Hartman | Marion |
| Jon | Henderson | Marion |
| Richard | Hensley | Marion |
| Megan | Herr | Marion |
| Desirae | Hill | Marion |
| Rachel | Hodge | Marion |
| Courtney | Holt | Marion |
| Amy | Howard | Marion |
| Jessica | Hutchinson | Marion |
| Joshua | Jackson | Marion |
| Tammy | James | Marion |
| Aaron | Kneisley | Marion |
| Charles | Lanier | Marion |
| Justin | Lavery | Marion |
| Daniel | Lucas | Marion |
| Kenny | Maran | Marion |
| William | Mason | Marion |
| Shannon | Maynard | Marion |
| Summer | McCrery | Marion |
| Ishaya | McGee | Marion |
| Danielle | Miller | Marion |
| Paul | Mulder | Marion |
| Zachary | Norris | Marion |
| Carrie | Ogle | Marion |
| Antonio | Overton | Marion |
| Renee | Patton | Marion |
| Jacob | Pieh | Marion |
| Kayla | Potts | Marion |
| Jeffrey | Price | Marion |
| Joe | Raczkowski | Marion |
| Whitney | Randolph | Marion |
| Melody | Reading | Marion |
| Deana | Risch | Marion |
| Diego | Rivera | Marion |
| Brian | Roberts | Marion |
| Jabari | Sabah | Marion |
| Laura | Skinner | Marion |
| Katherine | Smith | Marion |
| Shelby | Smith | Marion |
| Spenser | Snyder | Marion |
| Tracy | Snyder | Marion |
| Marsha | Thomas | Marion |
| Michael | Tighe | Marion |
| Meggan | Tiller | Marion |
| Starlena | Treese | Marion |
| Amber | Turner | Marion |
| Tinkesh | Valsadi | Marion |
| Tina | VanArsdall | Marion |
| David | Vanliere | Marion |
| Jimenez | Velarde | Marion |
| Brian | Waltzer | Marion |
| Kimberly | Watts | Marion |
| Jayme | Weber | Marion |
| Derek | White | Marion |
| Dawud | Wilson | Marion |
| Nichole | Woolum | Marion |
| William | Wright | Marion |
| Sherree | Tyler | Monroeville |
| Brenna | Acker | Mount Gilead |
| Kortnie | Brown | Mount Gilead |
| Katelyn | Burson | Mount Gilead |
| Jessica | Chafin | Mount Gilead |
| Briana | Fannin | Mount Gilead |
| Mitchell | Goossens | Mount Gilead |
| Craig | Irwin | Mount Gilead |
| James | Kirk | Mount Gilead |
| Tiffany | Sayre | Mount Gilead |
| Christopher | Hatfield | Mount Victory |
| Megan | Heinlen | Nevada |
| Alyssa | Johnson | Nevada |
| Johnathan | Miller | Nevada |
| Anna | Rogers | Nevada |
| Lindsay | Wade | Pataskala |
| Lindsay | Steward | Perrysville |
| Elisabeth | Gorrell | Powell |
| Brett | Patton | Powell |
| Mick | Davis | Prospect |
| Nicholas | Duncum | Prospect |
| Robert | Hurst | Prospect |
| Lindsay | Merrin | Radnor |
| Samuel | Bevis | Richwood |
| Heather | Davis | Richwood |
| Chelsea | Pertuset | Richwood |
| Deanna | Roberts | Richwood |
| Nancy | Wheeler | Richwood |
| Richard | Lynn | Sunbury |
| Melissa | Ritter | Sycamore |
| Matthew | Sebring | Sycamore |
| Samantha | Daniel | Tiffin |
| Kenneth | Lawrence | Tiffin |
| Lisa | Levengood | Tiffin |
| Aric | Shock | Tiffin |
| Landon | Warnement | Tiffin |
| Zachary | DeLany | Upper Sandusky |
| Brittany | Gottfried | Upper Sandusky |
| Claire | Hill | Upper Sandusky |
| Carrie | Lear | Upper Sandusky |
| Doreen | Lemmert | Upper Sandusky |
| Kenneth | McKee | Upper Sandusky |
| Margaret | Orians | Upper Sandusky |
| Jami | Powell | Upper Sandusky |
| Cheryl | Thiel | Upper Sandusky |
| James | Whitmore | Upper Sandusky |
| Aaron | Magoto | Versailles |
| Molly | Kidwell | Waldo |
| Stephanie | Payne | Waldo |
| Michael | Johnson | West College Corner |
| Jessica | Cox | Westerville |
| Amber | Donda | Westerville |
| Sarah | Monroe | Westerville |
| Michael | Roark | Westerville |
| Ryan | Hileman | Wooster |
Similar Posts: