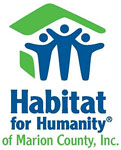 Habitat for Humanity of Marion County Ohio, Inc. is opening its Habitat for Humanity ReStore at 1713 Marion Mount Gilead Road (entrance at the rear of Mallard Square), on Saturday, July 20, 2013. The Marion Habitat for Humanity ReStore will carry donated new and gently used items for home improvement.
Items for sale will include building materials, appliances, cabinets, fixtures, plumbing, electrical, furniture, lawn and garden, and more.
Open to the public for both purchase and donations, store hours will be Thursday and Friday from 10 a.m. to 6 p.m. and Saturday 8 a.m. to 4 p.m. Donation Center will be open during store hours, and also will be open on Tuesdays and Wednesdays from 10 a.m. to 5 p.m.
The store phone number is 740-386-2030 and the email is restore@habitatmarion.org.
Joining over 30 ReStores across Ohio and 825 across the nation, the Habitat said Marion ReStore will provide needed services for the entire community by offering lower cost and unique items to consumers while keeping usable materials out of the landfill.
"Businesses, especially contractors, are jumping on board with the ReStore concept because of the opportunity to recycle materials they were previously placing in dumpsters. Remodelers and DIYers love ReStores because they can donate and purchase in the same location," explained Lynn Zucker, Executive Director of Habitat for Humanity of Marion County. "Although your drop offs save financial and human resources, Habitat ReStore also has a box truck to pick up larger items from homes and businesses when necessary."
"Our goal is to make shopping at the ReStore an experience," says Store Manager Terry Schulz, "because we will have new items in stock daily."
Habitat for Humanity International has partnerships with major U.S. manufacturers and retailers such as Whirlpool Corp. and Lowe's which provide new overstocks and factory seconds to Habitat ReStores across the country.
Marion Community Foundation (MCF) is providing a $25,000 grant for the building upgrades needed to open the ReStore in Mallard Square. MCF sees Habitat for Humanity as an important low-median income housing provider in Marion and believes the establishment of the ReStore will be a major funding stream for the local Habitat affiliate.
90% of the proceeds from the ReStore will be used to fulfill the Habitat mission locally, putting God's love into action to build homes, communities, and hope in Marion County, while 10% will be shared with Habitat for Humanity International to build in other nations and fund HFHI's disaster resources.
Habitat Marion believes in "Keeping the Money in Marion" in all possible ways, using local suppliers to procure materials for their home builds and office needs, as well as the building upgrades being made in Mallard Square to accommodate a new retail outlet. The affiliate chose Mallard Square not only for its excellent location but also due to local ownership and management by MRN Property Management. Zucker said local consumers can be confident that your Marion ReStore purchases will keep their money circulating in Marion by building homes using Marion suppliers and contractors while serving local families in need of decent, affordable housing.
Habitat partner families purchase their home with a 20-30 year no interest mortgage. The mortgage payments become part of the revolving "Fund for Humanity" which the affiliate also plows back into the mission to serve even more families.
In addition to the Marion Community Foundation, many people across the community have helped make the Habitat ReStore possible. Zucker said that when people visit the ReStore, they should make sure to check out the "Wall of Fame" above the front door. This is a list of very foundations, businesses, contractors, and individuals who have poured cash, time, and material resources into the building upgrades for the ReStore.
For information on ReStore donations or volunteering opportunities, contact Terry Schulz at 740.386.2030. For more information about the mission of Habitat for Humanity of Marion County Ohio, Inc., contact Lynn Zucker at 740.383.2007.
Similar Posts: