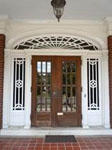 Have you ever wondered what lies behind the closed doors of buildings we drive by every day? Sometimes all that is needed to find out is simply to stop and look, but other times the doors may be closed to the general public.  On Saturday, October 12, 2013 several buildings will open their doors to visitors as part of the Behind Closed Doors Historical Marion Tour.
Designed as both an opportunity to see some unusual sites as well as a fundraiser for MCHS, the tour will feature five different locations including: the Elks Temple and Grand Opera House (Ohio Theatre), Frank Huber's home, the Receiving Vault in Marion Cemetery where President and Mrs. Harding awaited their final burial, the Owens Opera House and associated buildings, and the Stengel-True Museum.
In addition to seeing what is behind the closed doors, each tour participant will receive a souvenir booklet filled with information and pictures about the sites. For those who may want even more information, a DVD filled with hundreds of pictures of the various locations will be available for purchase. Many of the pictures on the DVD have not been published before. They include both current and historical views of the different sites including some areas not available to the general public during the tour.
Each of the sites on the tour, which is self-driving to allow participants to travel at their own pace and visit any or all of the sites, will be open from 1:00pm to 5:00pm on Saturday, October 12.  Driving directions to the various sites are available at Heritage Hall.
Tickets are currently on sale at Heritage Hall as well as at www.marionhistory.com.  Tickets are $8 in advance or $10 the day of the tour.
For more information, contact Heritage Hall at 740-387-4255.