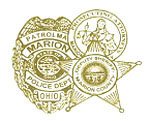 A month-long investigation into the manufacturing of methamphetamine resulted in the execution of a search warrant at a Marion home Thursday afternoon. Police say they found evidence of meth production and arrested five suspects.
Members of the MARMET / METRICH Drug Task Force, Marion Police Department, and the Marion County Sheriff's Office served the search warrant on December 5, 2013 in the 500 block of Avondale Avenue. Inside the home, officers say they located a "one pot method" container of methamphetamine cooking.
The Marion City Fire Department, assisted by the Marion Township Fire Department, responded to the scene to assist with the potentially explosive situation. Neighbors were evacuated from their homes until the State of Ohio's BCI & I Clandestine Lab Unit arrived at the scene. Officials explained that some of the chemicals used to manufacture methamphetamine are common household items. However when the chemicals are mixed it creates a highly flammable liquid which produces a toxic gas.
Detectives located five people inside or near the home which were connected to the investigation. All five people arrested at the scene were treated for exposure to the chemicals along with two detectives. Officials say the detectives are expected to be fine and were treated simply as a precautionary measure.
Those arrested included Duane Boggs, 35, Alan Carter Jr., 31, Jarrett Levins, 22, Dominique Owens, 20, and Brittany Yates, 28. All are from Marion. They were transported to the Multi-County Correctional Center on charges of Illegal Assembly or Possession of Chemicals for the Manufacture of Drugs.
The Marion Police Department is asking for anyone with any information on drug activity to call the Police Department at 740-387-2525. You can also call the TIPS line and remain anonymous at 740-375-TIPS (8477).
Similar Posts: