September 16 and 17, 2017 will be the third annual fly-in at the Marion Municipal Airport, 1530 Pole Lane Road in Marion, featuring a WWII B-17 bomber, "Yankee Lady". The "Flying Fortress" has been restored to pristine condition and will be giving rides and tours.
Dan Hempy, organization president, said " Those interested in booking a ride on a flight should probably not wait until the last minute. These flights are anticipated to sell-out."
Flights are $450 and tours, given between flights, are less than $10. Anyone interested in a flight can book it at www.wingswheelsmarion.org and www.yankeeairmuseum.org or there may be a few seats available the two days of the fly-in.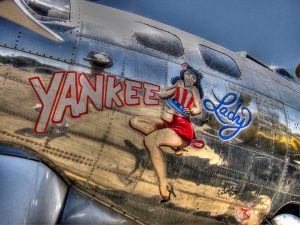 "You have to understand and appreciate the labor and operational costs to maintain this historical aircraft," said Hempy. "Flights are an exhilarating thirty minutes. Passengers will be able to move about the B-17ʻs flight deck, radio room, waist gunnery station, bomb bay and Plexiglass nose. Passengers will experience what the WWII crews experienced without being shot at."
The "Yankee Lady" will be arriving Friday, September 15th between 11:00 A.M. and 11:30 A.M. for anyone is interested in seeing it come in.
Marion Wings & Wheels Inc. will be honoring POWs and MIAs with Saturday's opening ceremony at 8:30 A.M. A "missing man" formation fly-by during the opening ceremony will be performed by E.A.A pilots Dan Hempy, Shawn Tofte, Dave Calland and Jared Granzow.
Supporting attractions include:
Pete Keelan, Ft. Wayne, IN with his 1955 North American Aviation T-28 Trojan. The T-28 was the transitional aircraft from piston to jet power. His T-28 is a multiple award winning plane.
Robert Barr, Logansport, IN with a 1955 Beech T-34 Mentor.
An Air Tractor, a crop duster, of Matt Arnold, Commander, U.S. Navy, Ret., of Tactical Agriculture.
A unique biplane, 1930 D-25 new Standard, of Goodfolk & O'Tymes Biplane Rides can carry up to four passengers; they will be selling rides for $70 per person.
A request has been submitted for a Coast Guard Dolphin helicopter.
MedFlight's helicopter will arrive approximately 9:00 A.M.
You can also ride in a helicopter like the ones in M*A*S*H. Helicopter rides in a Bell – 47 are $30 per person and will be given by Andrew Gordon, Busy Bee Helicopter on Saturday. However, if the demand warrants, he will stay-over to give rides on Sunday.
The "wheels" element of the fly-in is the "Cruise-In for Dialysis" which will feature local antique, classic cars and hot rods on Saturday.
The public will also have the opportunity to fly a "Drone" on a flight simulator courtesy of members of Marion Air Foils and see an R/C exhibition.
"This family oriented event is free to the public. Free parking. Free admission. We are also hoping to be able to give kids, ages 8 to 17 their first flight in an airplane Saturday, however, this is contingent upon the number of volunteers from the Experimental Aircraft Association, E.A.A. These rides are courtesy of the E.A.A.'s "Young Eagles Program" to encourage and inspire young folks into aviation" said Hempy.
Should there be enough volunteers, members of the Central Ohio Soaring Association, COSA, hope to give sailplane/glider rides.
Hempy encourages those attending to bring a lawn chair and sun screen and enjoy the day of activities.
Event organizer Marion Wings & Wheels Inc. is a 501c(3) non-profit entity. They are a volunteer based organization promoting aviation science, technology and engineering at the Marion Municipal Airport. Their goal is to inspire students to pursue vocations in aviation.
Marion Wings & Wheels Inc., www.wingswheelsmarion.org,
WWII Boeing B-17, Yankee Lady, www.yankeeairmuseum.org
Similar Posts: