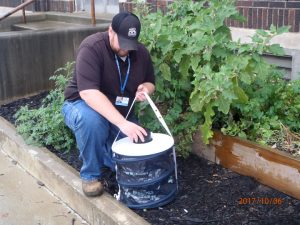 Marion Public Health recently received notice that a mosquito that was trapped in Marion County tested positive for West Nile Virus.
Marion Public Health says they have been proactive in mosquito surveillance efforts which have included setting up mosquito traps at 12 different locations this year. They have worked with Marion City and Marion County local schools, local businesses, Marion City and Marion County Parks Department, Ohio State University Marion, and Townships in Marion County.
Marion Public Health received the Ohio EPA mosquito control grant in 2016 and 2017. Last year they received funding to hire a seasonal worker for mosquito surveillance (pictured) and public education such as billboards. They also received money to give to the Marion City Parks Department to purchase backpack sprayers and adulticide for mosquito spraying. This year Marion Public Health received funding to continue mosquito surveillance and public education, purchase mosquito dunks, and for mosquito source reduction (tire cleanups).
Collection numbers have been low lately due to a cooler fall, however, be aware that mosquitoes are still active until the first frost of the year. Marion Public Health wants the public to be aware and take precautions to prevent mosquito bites. Marion Public Health will continue to trap and monitor mosquitoes until the first freeze of the year or until the ODH testing lab closes for the year, whichever comes first.
The primary way people get WNV is through the bite of an infected mosquito. Most people who become infected with WNV do not have any symptoms. About one in five people who become infected develop a fever with other symptoms such as headache, body aches, joint pains, vomiting, diarrhea, or rash. Less than 1 percent of infected people develop a serious neurologic illness, such as encephalitis or meningitis (inflammation of the brain or surrounding tissues). There are no medications to treat or vaccines to prevent WNV infection.
Here are some tips to avoid mosquito bites:
If you are outdoors between dusk and dawn when mosquitoes are most active, be sure to wear long pants, a long-sleeved shirt, shoes and socks.
Wear light-colored clothing, which is less attractive to mosquitoes.
Use EPA-registered mosquito repellent and follow the label directions.
Install or repair screens on windows and doors to keep mosquitoes out of your home.
Here are some tips to eliminate mosquito breeding sites around your home:
Eliminate standing water.
Empty or remove water-holding containers, such as buckets, unused flower pots and bird baths.
Make sure all roof gutters are clean and draining properly.
Keep child wading pools empty and on their sides when not being used.
Learn more about mosquitoes and WNV on the ODH website at www.odh.ohio.gov/wnv.
Similar Posts: