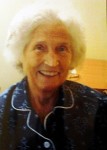 Through the years Clara Mae Gregory Napper Scroggins has been active in the community doing good works for those who were in need. A helping hand, a shoulder to cry on, wisdom and experience shared, a roof over a head, clothes on a back and food for the table. Whatever was needed was given with no thought of how she felt or what sacrifices she had to make herself.  On November 16th 2012, God brought her home to be with him; an Angel got her wings.
She was manager of the western shop at Depot Sales for 17 years, was employed at Marion General Hospital for two years and received the Rose award and worked at Community Action.
Clara is survived by her husband, Jesse Scroggins Sr. of New Bloomington. She is also survived by their children; Brian E Napper, his wife Mary and their children Breanna and Colton (Riser); Julia Owings, her husband Sherm and their children; Kira Baker, her husband Pat, their children, Rebecka Bartlett, Trenton Bartlett, Patrick Owings, and Kaleb Mulligan; Heidi Owings and her children Jayden Gibson, Tyresa Gibson, Jericho Gibson, and Akiala Porter, Blane Mayberry, Joshua Owings, Kathryn Mayberry (Dwight Saylor) and their children Taylor Thomas, Jordan Thomas, Skyler Thomas, Dawson Thomas, Leslie Saylor, Logan Saylor and Lance Saylor. Shannon (Tylee)Mc Crary and their family.Aubrey Scroggins and his children Bryan Scroggins, his wife Sarah, and Sarah Scroggins. Jesse Raymond Scroggins Jr, his wife Deb and their children Elliot and his children Emily (Jeremiah Woodmansee), Jessica (Eric Heweel), Wendy(Mark Vinovo) Kathy Scroggins and her daughter Elizabeth. Debbie, her husband Junior Dunn and their children Kim, Rebecca, Amy, Junior Dunn. She also has 12 great-great-grandchildren.
She is also survived by her sister Helen Dolly French and her family, Robert (Jo) Gregory and his family, and her sister, Carole (Sam) Justice and their family.
Her first husband, the father of her children, Herman Napper also survives.
She is preceded in death by her parents, Helen and Robert Gregory and James and Helen Mc Peek, her sons James Robert and Brent Napper and her siblings John (Jack) Hopkins, Lilly Jane Mc Donald, Margaret Mc Donald and Nancy Lenavitt and two great grandchildren.
The family will receive guests on Tuesday, November 20, 2012 from 5-8 PM at the Boyd-Born Funeral Home with a memorial service following immediately at the funeral home at 8 PM with the Rev. Bill Middleton presiding.  Interment will be at a later date at Agosta Cemetery.
In honor of the way she lived her life with the example she has set we ask in lieu of flowers please donate to the charity of your choice.  Online condolences may be expressed to the family at www.boydbornfuneralhome.com.