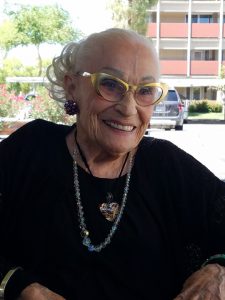 Hope Line Decker, 94, was ushered into eternal life with her Lord and Savior on Thursday evening, Aug 3, 2017.
Since giving her life and hopes for the future to Jesus Christ as a young girl, Hope became a beloved servant in Oakland United Methodist Church. She was a vivacious soul with a loving and peaceful spirit.
Hope and her twin sister, Faith Pescan, began private vocal training at 5 years old! They were featured in "The Faith and Hope Hour", a radio program where they shared God's goodness and sang His praises. Hope served during WWII singing for the armed forces in USO shows across the country. After Hope married her late husband, Gene in 1950, they performed together in many venues including radio, church and for those in nursing homes with Gene at the piano.
Hope and Gene lived their whole lives in Marion, Ohio until they moved to Phoenix, Arizona in 2004. Hope had a variety of careers such as: building bombs during WWII, baking homemade pies for Marion restaurants, directing the Oakland church choir, and working for many years for the Marion County Recorder's Office. She cherished many friends throughout the community in no small part because of her famously rich pies along with her bright eyes and delightful personality.
Hope was preceded in death by her husband, Gene Decker, sister, Carolyn Kazarian, brother Constance Line, and daughter, Carol (David) Urbytes. She is survived by her twin sister, Faith Pescan, son Lance (Jeanine), daughter, Faith Southard (Rod), grandchildren Aaron, Ben (Lindsay), Matthew (Laura), Mitch (Susan), Darrin (Cris), Trenton (Lisa), Scott, and Marybeth (Jason); great grandchildren Isabella, Greta, Reese, Zach, Meghan, Alec, Elliott, and Reagan.
Visitation will be held Thursday, August 10th, 2017, 4 to 8 pm at Boyd's Funeral Home, 122 W Columbia St., Marion, Ohio. Join us in the celebration of her eternal life Friday, August 11th, 2017, at 10 am at Oakland United Methodist Church, 835 Bellefontaine Ave, Marion, OH. Entombment will follow at Marion Cemetery. A memorial service will take place Monday, August 21st, 2017, 10 am at The Beatitudes 1610 W Glendale Ave, Phoenix, Arizona in the Life Center.
Memorial contributions may be made to the Marion Area Humane Society. Condolences may be expressed to the family online at www.boydbornfuneralhome.com.
Similar Posts: