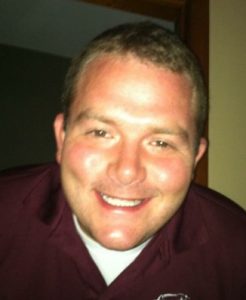 Dustin L. Boston, age 36, of Marion found the peace he was looking for, passing on Monday, November 6, 2017.
On January 12, 1981, Dustin was born in Marion, Ohio, the son of Peggy Miller and Cole Boston. He graduated from Marion Harding High School in the class of 2000, where he loved playing football. You could still see Dustin attending games with his daughter every Friday night rooting on his beloved Harding Prexies.
During high school, Dustin quickly became one of the coolest guys in school, being one of the first to sell cellular phones at the mall. Everyone was reaching out to him for new latest and greatest Nokia phone with T-Mobile in the 90's. Dustin was always someone his family and friends looked up to.
Able to sell someone something that they didn't even realize they needed; Dustin excelled in sales for over twenty years, most recently working at Frontier Communications. He had a way of connecting with his customers and co-workers, making them feel as if they were long lost friends.
"D-Bos" or "Boston" to his friends, Dustin was a man of many names. Growing up, he was known as Buck Rogers, a nickname from his Uncle Rick, and it stuck with him his whole life by those in his close family. To his Grandpa Don, he was "His Boy."
An avid sports fan, anyone who knew Dustin knew he loved the Boston Red Sox and the Notre Dame Fighting Irish football team. A great friend, if his teams weren't playing, then he jumped on your team's bandwagon to try and cheer them on to a victory.
While Dustin cherished his friends, his true pride and joy were his two daughters: Mya and Lillian. They were his life, the very essence of his being. Now instead of football; Barbie's and Shopakins were his thing because the girls loved them so much. He also shared a special bond with his mother, and he was never afraid to admit how much of a momma's boy that he was. He also worshipped the ground his beloved Grandma Judie walked on.
Dustin truly had an "amazing heart." His smile and sense of humor always lit up the room, making him the life of every party.
Left to cherish his memory are his mother, Peggy Miller; father, Cole Boston; two daughters: Mya Boston and Lillian Boston; grandparents: Donald & Judith Shope, Esther Long, and Wayne Boston; sister, Jessica (Aaron) Davis, and brother, Josh Criswell; Dustin also shared a very special relationship with the cousins he grew up beside and was raised with as brothers and sisters; Toby (Megan), Dewiel, of Fort Myers, FL; Wendy (Jeremy) Howell of Marion, OH; and Brooklyn Trubee, of Las Vegas, Nevada, along with many other cousins, aunts and uncles, and nieces and nephews that were very dear to him, and countless dear friends he cared about deeply.
Dustin was preceded in death by his brother, Carlos Tony Thomas; Aunt Tina Dewiel; great-grandparents: Ruby & Millard Mayse, William & Lucille Robinson, and Garnett & Dewey Miller.
His family will greet friends from 3 – 5 p.m. on Sunday, November 12, at the Family Life Church, 2209 Marion-Waldo Rd, Marion. Services honoring his life will follow there at 5 p.m., with Pastor Tom Toney officiating. Everyone is encouraged to wear their Boston Red Sox and Notre Dame gear to help turn this somber event into a celebration of a great man we'll all miss.
In lieu of flowers, memorial contributions may be made to help his family by calling the funeral home to make donations or via https://www.gofundme.com/in-memory-of- dustin-lee- boston.
Snyder Funeral Homes of Marion are honored to have been chosen to serve Dustin's family and your favorite memories and condolences may be shared via www.SnyderFuneralHomes.com.
Similar Posts: